Periscope has only been on the social media scene for a short time, but since its inception it has led an exciting life.
Before its official launch, the live streaming app was acquired by social media giant Twitter, and since its 2015 release, 10 million users have signed on, with 2 million of those being daily active users. Now with 200 million broadcasts — equating to 100 years worth of video — Periscope really is a force to be reckoned with. It's no surprise that competitors like Facebook have tried to emulate Periscope.
Clearly there are many adopters of Periscope and its fellow live streaming technologies; still, some businesses struggle to see how to best use the platform. We've found it to be a valuable tool in our content marketing arsenal.[bctt tweet="Check out tips for integrating Periscope & live streaming in your content marketing arsenal!" username="turnupthesem"]
Check out our recommendations for integrating Periscope into your content marketing strategy!
Periscope for Content Marketing
Step 1: Promote
In order for your Periscope broadcast to be a success, you need to have a captive audience. To have a captive audience, you need to promote your broadcast.
We recommend the follow promotion schedule:
2 weeks before: Announce the topic, date, and time of your live stream
1 week before: Remind your audience of the broadcast details
3 days before: Another gentle reminder of the upcoming event
1 day before: Get your audience pumped up for the impending broadcast!
2 hours before: Don't let fans forget that your Periscope is forthcoming
We promote our Periscope broadcasts on Twitter (naturally, since they're partnered up!), Facebook, and LinkedIn, but depending on your target market, you may want to change what platforms you include. Wherever you promote, be sure to provide all the relevant details on the broadcast (topic, date, time, time zone, and your Periscope username so people can find you!) and use any hashtags you want your audience to use when discussing the live stream.
We've created a template we use when promoting our Periscope broadcasts (see the "Free Apps" graphic above); the consistent imagery helps our audience quickly identify when we are live streaming.
Step 2: Produce
Once you've promoted your Periscope broadcast, the next step is producing a great live stream that people want to tune into and engage with. In order to do that, you need to be sure that you have good production values. Lighting, sound quality, camera angle, and backdrop all need to be taken into consideration. The person(s) speaking should be informed of what they should wear (busy patterns look bad on camera, for example), and must be sure to speak at a good volume and pace. They should also be aware of how their movements and hand motions translate.
On the day of your broadcast, be sure to have everything set up so that you start in a timely manner. When starting the broadcast, you'll need to have the accompanying message ready to send when you hit start. Since this message is what alerts people to the fact that your broadcast is live, you should make sure it's engaging and that it clearly communicates what your broadcast is all about. Use hashtags smartly to tap into specific audiences.
Lastly, during the Periscope broadcast, it's important to have someone not only manning the camera, but also another person manning a tablet or phone to respond to questions. Make sure this individual is comfortable answering inquiries relevant to the topic at hand.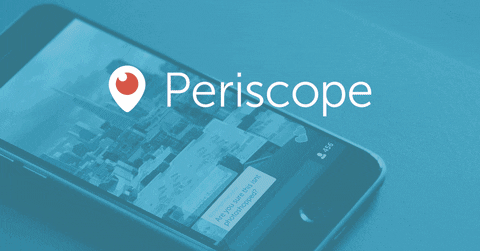 Step 3: Recap
After your broadcast, the work isn't done. To get the most mileage out of the live stream content, you need to follow up with your viewers and those that didn't get a chance to tune in.
Head to your blog and post a recap of the presentation, hitting the main takeaways and recapping any audience questions. Once this is done, you can promote the blog on social media. Your audience will appreciate your efforts to keep them informed, and those that weren't able to view the broadcast will see value in your live stream content and be encouraged to tune in next time.
Step 4: Repurpose
If you want your Periscope broadcast to make the biggest impact, you should consider repurposing it into a different format. Translating it into a blog is a good start, but there are many other content types that are well-suited, including:
Whitepapers. Your team might put a lot of thought, effort and research into producing content for a great Periscope live stream. Take the information they compiled and reshape it into a whitepaper which you can then promote.
Achieve Live Stream Success
When done effectively, your live streams (regardless of platform) can be high-performing content for your brand or business.
Turn The Page can help you create and implement a successful live stream marketing strategy. To get started, call us today at (816) 527-8371 or (844) 889-5001!